Salmonella outbreaks. Agency warning letters. Lawsuits challenging "All Natural" food labels. As the food, beverage and agricultural industries become more complex, they require effective legal representation that can quickly evaluate potential liability and craft the most appropriate responses to suspected product adulteration, alleged food-borne outbreaks or environmental contamination claims.
For decades, manufacturers, distributors and retailers at every link in the food chain have come to Shook, Hardy & Bacon to partner with a legal team that understands the issues they face in today's evolving food production industry. Shook attorneys work with some of the world's largest food, beverage and agribusiness companies to establish preventative measures, conduct internal audits, develop public relations strategies, and advance tort reform initiatives.
Whether faced with individual personal injury lawsuits or multidistrict litigation, manufacturers, distributors and retailers can rely on Shook, Hardy & Bacon because our attorneys understand the context driving these claims. We have defeated class certification, defended multiple consumer class actions alleging unfair or deceptive trade practices and obtained the dismissal of false-advertising claims preempted by federal nutrition-labeling laws. Our food and beverage team has helped clients successfully resolve matters arising from nationwide foodborne illness outbreaks; "all natural," "healthy," "non-GMO," and "0 Grams of Trans Fat" labeling claims; and consumer or workplace exposure to substances such as diacetyl, 4-methylidmidazole (4-MEI) and azodicarbonamide.
---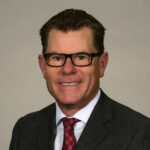 Mark D. Anstoetter
Partner

Firm Biography
P: 816.474.6550